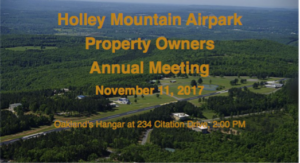 November 11, 2017 @ 2:00 pm
Just a quick note to remind all of the upcoming meeting.  It looks like we will have a good turnout, and the Oaklands are graciously supplying their beautiful hangar again.
 We hope you all can attend…even looks like it might be a good flying day.  If you do fly in, call Beth, and someone will come get you.
Important reminder:  If you are unable to attend, please email me your proxy naming the person you'd like to vote on your behalf, or you can designate the Board as your proxy.