Mother Nature did her best to throw an icy chill on the mountain New Year's Day, but she was no match for the warm friends and fellowship of our annual Progressive Dinner.

Even with temps hovering in the teens and some folks out of town there was an excellent turn-out for the affair as 35 Holley Mountaineers shook off the cold for our traditional kick-off to the new year – a New Year's Day three-stop touch-n-go culinary journey 'around the patch' – with appetizers at the home of Neal and Debbie Haley, the main course at John and Carol Oakland's hangar, followed by desserts and coffee at the home of Walt and Linda Petersen.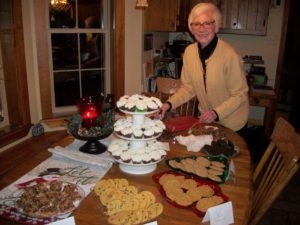 A silly little tradition is the drawing for the new year-long home of the Airpark Squirrel, which this year was awarded to the Haley's.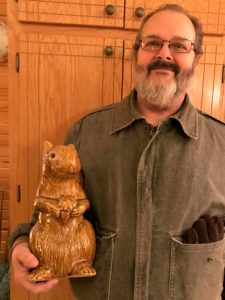 The little guy will be on display at the newest home in the airpark for the remainder of 2018!
A big thank you to the hosts and volunteers of this years dinner that helped make a cold night feel a lot warmer.   Have a safe and happy new year!